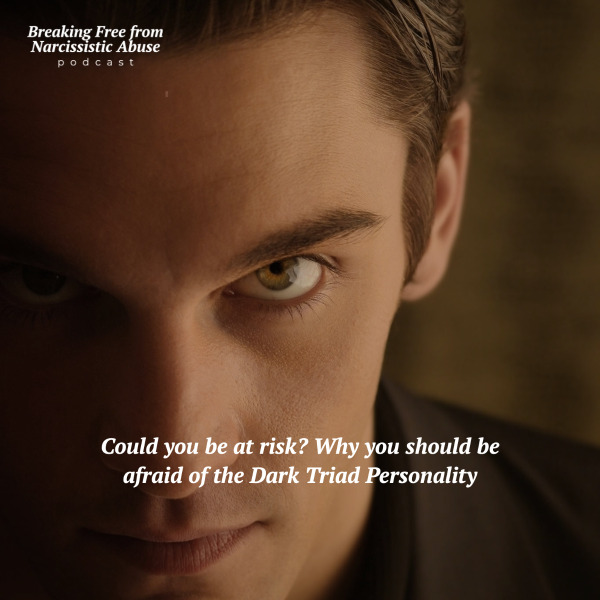 In this episode, Kerry and Tara discuss a particularly dangerous group of people, the Dark Triad Personality Disorders. And today's self-help tip is how to  assess if someone you know is a one.
Is My Partner Toxic or Dangerous? Find out with this short survey
If you're wanting to exit a toxic relationship safety,  here are some things to consider.
References:
Adam Grant
Definition of the Light Triad Personality type
Robert Hare, Ph.D. Expert on psychopathy
Breaking Free from Narcissistic Abuse Season 1 Episode 47: How does a narcissist or a psychopath differ? Aren't both abusive?
Follow Kerry and Tara on Tiktok, Instagram, Youtube, and Facebook: Kerry's accounts & Tara's accounts.
Are you looking for community support after narcissistic abuse? Become a member of Dr. Kerry McAvoy's exclusive group, Toxic-Free Relationship Club!
Want to read a true story of narcissistic abuse? LOVE YOU MORE: The Harrowing Tale of Lies, Sex Addiction, & Double Cross. Available here at the following online stores.
Seeking help? Book a coaching session with Tara.
Reclaim & Recover: Heal from Toxic Relationships with a 7-Step Guided Journal. Get the Journal on Amazon.
Consider donating the cost of a cup of coffee to support this podcast! Leave us a review and let us know what you think about the podcast; send an email to he***@br***********************.com
More available at kerrymcavoyphd.com